About the COSMOS-standard
International Certification for Cosmetics
COSMOS STANDARD SCHEME DOCUMENTS
The Version 4.0 of the COSMOS-standard was published on 1 January 2023 and is applicable since 1 June 2023. 
What's covered in the cosmos standard?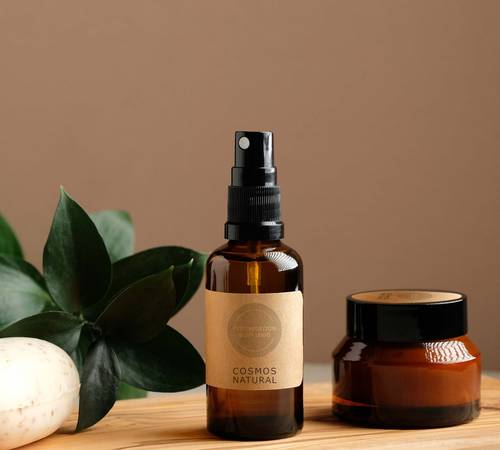 The COSMOS-standard is guided by four core principles:
​Promoting the use of products from organic agriculture, and respecting biodiversity.
Using natural resources responsibly, and respecting the environment.
Using processing and manufacturing that are clean and respectful of human health and the environment.
Integrating and developing the concept of green chemistry.
The COSMOS-standard covers in detail all aspects of the sourcing, manufacture, marketing and control of cosmetic products. Our Certification Bodies inspect each of these aspects when certifying an organic or natural product. The key sections of the COSMOS-standard are chapters 6 – 11.

6. ORIGIN AND PROCESSING OF INGREDIENTS
Standards for water, minerals and ingredients of mineral origin, physically processed agro-ingredients,​ chemically processed agro-ingredients and other ingredients.

7. COMPOSITION OF TOTAL PRODUCT 
How to calculate the organic content of complex ingredients and how much organic content is required in products under organic certification.

8. STORAGE, MANUFACTURING AND PACKAGING
To ensure adequate cleanliness, hygiene and traceability throughout all processes, and to ensure that packaging respects the environment.

9. ENVIRONMENTAL MANAGEMENT
Details the requirements for care of the environment throughout the manufacturing process, and managing, minimising and recycling waste.

10. LABELLING AND COMMUNICATION
Defines comprehensive requirements for clear product labelling and company advertising, to ensure all necessary information for consumers and no misleading claims.

11. INSPECTION, CERTIFICATION AND CONTROL
The requirements for all products, their raw materials and their manufacturing to be certified by a competent body, authorised by independent accreditation. 
HOW TO CERTIFY A PRODUCT OR a raw material
Apply to market organic and natural cosmetic products and raw materials using the COSMOS-standard logo.